Mexico On Pole
Sergio Perez at the 2016 COTA GP. Photo by Milton Torres.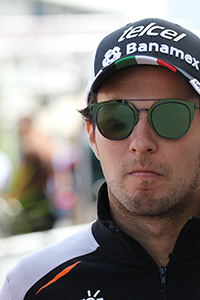 Mexico has produced amazing athletes in the past, and it continues to do so. Immediately coming to mind are such names as Hugo Sanchez, Jorge Campos from the world of football and those of Julio Cesar Chavez, Ruben Olivares from the world of boxing.
The list of great Mexican born athletes doesn't end there. Yet, there have only been a handful of Formula 1 drivers from this beautiful country. All that seems to be changing as the tide has brought the colors of the Mexican flag with it, and the waters are indeed surging.
As of this very moment, we have two young and bright stars on the Formula 1 grid in Sergio Perez and Esteban Gutierrez, both anxiously looking forward to race their home Grand Prix at Autodromo Hermanos Rodriguez. The venue which is named in tribute to the Mexican brothers Ricardo and Pedro Rodriguez, whom history reminds us were motorsports drivers covering many categories, including Formula 1.
The 2015 Mexican Grand Prix showed the entire world the importance motorsports means to the people and to the land. Motorsports has a deep history in Latin American culture, and we are reminded with this race on the calendar. Argentina, and Brazil having produced the most notable, as well as representatives from Colombia, Uruguay and even Venezuela.
Guadalajara (Jalisco) born Sergio Perez of Sahara Force India is making headlines with his recent success and podium finishes as well as his rumored future at the helm of a red car for the fabled Scuderia Ferrari camp for 2017. Esteban Gutierrez of Monterrey (Nuevo Leon) is back racing full time with Haas F1 after spending a season with Scuderia Ferrari as a test driver, in which he was among two world champions in Kimi Raikkonen and Sebastian Vettel. It's easy to see why we expect more Mexican flags to be waved in the grandstands in the future as well as those wearing them in honor on their race cars and coveralls.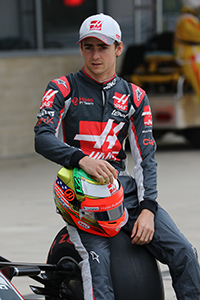 Esteban Gutierrez became the youngest Mexican driver to win an international title when he
became the 2008 Formula BMW Europe Champion. He was only 17
years old at the time but he was definitely experienced beyond his years. He is a natural talent on the track, in a go-kart or a multi-million dollar Formula 1 machine. From my own personal experience, having shared a karting event with him previously, I absorbed the knowledge he generously shared on perfecting corners, and braking zones.
He walked away from that event with the fastest ever lap record of the track, and his competition and onlookers amazed. This is when it became very obvious that children from his homeland are starting from a very young age to dream of racing at the highest level. No different than over in Europe, young boys and girls are now finding themselves in a kart. "I imagine and dream about winning a race in Mexico." He tells me with a huge cheerfulness. Surely this dream is now shared with many children and adolescents as the sport has become more visible to the proud people.
However, despite his very attainable fantasy, he sheds some harsh realism about his current situation. "At the moment we can't forget that we are a new team, we keep pushing and developing each day. I don't expect it to be easy for us, as the season goes on every team is bringing new developments and improving. It makes it harder and harder, but we can't give up. I mean, we keep learning from the car and how to extract more performance out of it, as well as the tires." Despite his realistic foresight, he still maintained his gleaming smile, knowing the thrill of rumbling across his home soil at extraordinary speeds. "It will be fantastic!" Esteban says, as he tells me his thoughts about racing on his home track. His eyes still lit with pure joy as he smiled. "I did some laps in a Ferrari road car for the first time very recently." His smile grew bigger as he leaned in to boast, "A Ferrari 458, it was nice! I did some very good laps."
It was great to see the boy inside this adult man show his endless passion for racing. Even greater was knowing how a culture so rich in history can now keep an eye on the future with the seeds Formula 1 has planted in its youth. We can't forget that out of the 22 active drivers in the sport, two are Mexican and racing at the highest level. A number that doesn't seem high, it is fact is very impressive. In an age where we are accustomed to seeing the German flag, or the Union Jack of the United Kingdom flying around the tracks or on the podium, the world should start getting used to the Bandera de México raised high. Proud, fiery, passionate and increasingly fast, Mexico is officially a hub for the sport. Now the world has taken notice.

An exciting and windy Canadian Grand Prix
Montreal always seems to deliver big when it comes to emotions. This year was no exception, with plenty of drama and excitement at a jam-packed Circuit Gilles Villeneuve.

Canadian Grand Prix; a tyre point of view.
With the 2017 Formula One season fully under way, the ten competing teams will head to Montreal, Canada in the first of three North American Stops. Austin, Texas, and Mexico City will host Formula One towards the end of the season in October.

Taking Off the Gloves with UFC Fighter Ricardo Lamas: Q&A

Esteban Gutierrez is a rising young star in the world of motorsports. With both youth and experience under his belt- there is no place he would rather be than the most fabled racing brand in the world-Ferrari.


THE ULTIMATE FIGHTER LATIN AMERICA 2


Jorge Masvidal; Pure Bred, Gamebred


UFC Fight Night with Jorge Masvidal


Vme TV Takes an In-Depth Look at an International Epidemic: Childhood Obesity

Professional Football Player Victor Cruz and Celebrity Chef Anne Burrell Host Time Warner Cable's "Connect A Million Minds Day"

'Tonight Show' Host Jay Leno's Day at the COTA F1 Track

Nike Women's Marathon Celebrates 10 Years in San Francisco


soccer's Liga de Ascenso MX 2013 will be broadcast in the US by Mexico TV

From a Small Town to the Big Time: An Olympian's Journey

Leo Manzano Wins 800 M in Sotteville France

Soccer Hall of Famer Alexi Lalas Becomes el Jimador's Brand Ambassador

Move over Fútbol, the NFL Scores Big with Hispanics