Top Ten Tips for Fall-Ready Skin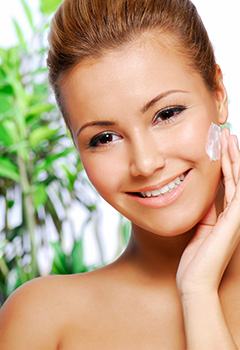 Fall 2014 has arrived and with crisper air and falling leaves, our skin reluctantly has to conform to climate change.
Latina skin is unpredictable, sensitive and needs specific attention for every season.
This year in fashion, we're going to see several shades of green, military and masculine influences.
Hair color will be soft and make up will be bold. Here are some tips to get your skin and hair ready for pumpkin season!
10. Even though the sun is getting farther, your skin still needs protection. Lower your SPF to a 15 and apply before your make up, keeping it protected from sneaky UV rays.
9. Green and purple eye shadow will be the "in" colors for fall 2010. These colors go with every hair color, so experiment to see what shades look best on you.
8. Even the oiliest of Latina skin gets dryer in the fall and winter. Add a creamy cleanser to your weekly routine, even if you use it sparingly, so your skin stays hydrated all season long.
7. Cell renewal happens over night. Make sure to have an eye cream and a heavier night cream, so your skin wakes up healthy, hydrated and super moisturized.
6. If you're planning to darken your hair for fall, make sure to do a strand test first to make sure it suits your soon to be paler skin tone.
5. Schedule a fall facial at your local spa. Request a pumpkin or pomegranate peel to get your skin and your senses in the mood!
4. Double up on your exfoliation. If you're exfoliating once a week, ramp it up to twice a week to keep dead skin from building up and clogging pores.
3. Have fun with fall colors, whether it's harvest gold, dark brown or forest green. Makeup shades should match fall fashion.
2. Fill your handbag with hand cream and lip balms – these areas are extra sensitive and drier during this time of year.
1. Fall 2014 is about being subtle and dramatic at the same time – emphasize the eyes with dramatic eyeliner but keep the cheeks and lips toned down.

Go West Mijo: Top Ten Places to Visit in Western Nebraska

Top Ten Places to Experience in Northern New Mexico

Top Ten Ultimate Experiences While Staying at the Fiesta Americana Grand Los Cabos Golf & Spa

The Top Ten Finalists of the Chicas Tecate Nationwide Search