Top Ten Summer Drinks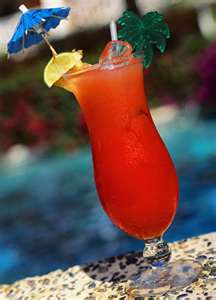 2. Fruit Cocktail
There's just something about frosty fruit-juice drinks that goes well toward beating the heat. Try this version and experiment with the proportions to get it just right for you and yours. You'll need 1 oz of orange juice 1 oz of grapefruit juice 1 oz of passion fruit juice 1 oz of mango juice 1 oz of pineapple juice 1/4 of oz lime juice 1/2 of oz kiwi syrup Shake or stir in a glass full of broken ice and enjoy.

Top Ten Ultimate Experiences While Staying at the Fiesta Americana Grand Los Cabos Golf & Spa


Top Ten Hispanics at 2011 Austin Comic Con!

The Top Ten Finalists of the Chicas Tecate Nationwide Search

Top Ten Places to Experience in Northern New Mexico