Top Ten Summer Drinks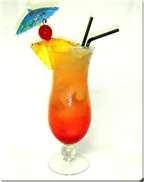 6. Sex on the Beach
It wouldn't be summer without Sex on the Beach. Enjoy responsibly. ¾ oz of vodka 
¾ oz of amaretto
 ¼ oz of orange juice 
½ oz of peach schnapps. Pour all the ingredients, excepf for the peach schnapps into an ice-filled Collins glass. Stir and float the schnapps on top of the mixture and enjoy.

Top Ten Ultimate Experiences While Staying at the Fiesta Americana Grand Los Cabos Golf & Spa


Top Ten Hispanics at 2011 Austin Comic Con!

The Top Ten Finalists of the Chicas Tecate Nationwide Search

Top Ten Places to Experience in Northern New Mexico