Top Ten Summer Drinks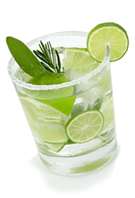 9. Caipirinha
The Caipirinha is a cocktail made from cachaça, a sweet Brazilian rum made from sugarcane juice. Use this recipe to add some South American flavor to your next summer gathering. 1 quartered lime 2 tbsp of fine sugar 2 oz of cachaça Place the lime wedges and sugar in a glass and muddle well to create a paste. Next, fill the glass with ice cubes, pour in the cachaça, and enjoy.

Top Ten Ultimate Experiences While Staying at the Fiesta Americana Grand Los Cabos Golf & Spa


Top Ten Hispanics at 2011 Austin Comic Con!

The Top Ten Finalists of the Chicas Tecate Nationwide Search

Top Ten Places to Experience in Northern New Mexico