Tequila, Mexico: Not Just a Day Trip Any More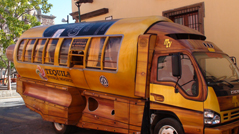 Tequila -- the liquor, not the town -- has picked up a bit of a bad rap even as it's grown increasingly popular throughout North America, Europe, and beyond. As in, margaritas and shooters, a cheap and surefire way to get -- how can I put this -- majorly wasted.
And yet...ever more folks are coming to appreciate the spirit's finer points -- there are reposados the equal of any single malt or Cognac, and a lore nearly as varied and distinguished as either. It was this pedigree -- plus a taste of the lesser-known color of colonial Mexico -- that I was seeking when I set out for this legendary central Mexican town.
Tequila is distilled from the cactus-like agave plant, and an officially designated "Tequila Route" passes through various villages that live for agave (including homemade brew in mini-barrels lining shopkeepers' shelves; sample at your own risk). But it's in and around Santiago de Tequila (pop. 27,000) on scenic Carretera15 less than an hour from Guadalajara that you'll find more than half of Mexico's 90,000 acres of blue agave cultivation.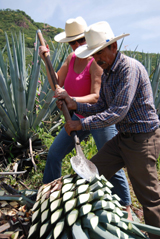 Tequila and neighboring communities like Amatitán and Arenal are this country's heart -- and definitely not tarted up for gringos. This is unvarnished countryside where weathered jimadores (agave farmers) hit the fields before sunrise to beat the worst of the sun's heat and the dark shadow of the Volcán Tequila hugs hilltops covered with acres of spiky blue agave -- an industry that all began when the Spanish conquistadors invented "tequila wine" within a few decades of their arrival.
The town itself consists of brick and adobe homes, splashed with ochre lime-wash and stone arches are wedged between tequila factories, such as Jose Cuervo's Mundo Cuervo, a mammoth complex in the town center. In typical Mexican tradition, the hub of activity is the surprisingly clean town square and its typical high steepled church, and merchants in kiosks and permanent structures with neo-classical or baroque ornamentation surround the square.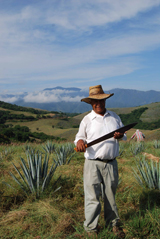 Soon after arriving at the fields, I found myself navigating rows of spiky, sharp greenish-blue agave plants and hearing the story of 68-year-old jimador Quirino. He's walked these fields for decades, harvesting the heart of the agave -- yet, despite sun-weathered skin, he strode briskly, and his mind was sharp as a pointy agave leaf. It's a labor of both love and sweat, this -- from daybreak until the heat gets to be too much -- usually around 2 pm. Our early morning was highlighted by my jimador collecting wood and building a fire to roast warm quesadillas and freshly-picked ears of corn. Over this earthy breakfast, we sat at a picnic table and enjoyed a panoramic view of agave fields dotted with livestock.
Indeed, for Quirino and the tequila industry's 40,000 other workers, (mostly farmers and field pickers), tequila's far more than a simple drink – it's their history, culture, and legacy. In fact, for many, "Tequila es México." UNESCO agrees; the area's been on the World Heritage list since 2006.
As recently as several years ago, tourist accommodations and amenities in Tequila were still barely more than rustic at best, and most travel guides would've recommended it as nothing more than a day trip from Guadalajara. But this fall I discovered the latest local offering: a new boutique hotel on the outskirts of town run amid 600 acres of agave by the boutique distillery La Cofradía.
In 2009, La Cofradía (See Links below), a tequila distillery just outside of the town, opened its first four themed rooms -- really casitas -- and plans 18 more.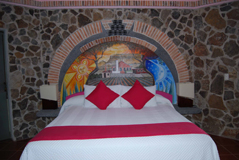 Each features a local artist's mural and in-room amenities such as your first taste of Casa Noble tequila; rates start at US$150. The highlight here is a night tour and tasting showcasing the distillation and fermentation processes; I tasted the baked agave fresh from an oven and sipped raw tequila dripping from the still. Agave seeped from oak barrels stored in dark, shadowy warehouses, their musky smell surprisingly alluring. And as we sipped the final product, the house Casa Noble, we were surrounded by agave fields and the aroma of fermenting tequila -- a heady experience, for sure.
If you still prefer tackling Tequila as a day trip (as many still do), there are plenty of low-cost options from Guadalajara, as well as a two-hour train ride called the Tequila Express (adults 950 pesos, kids 550, seniors 850), which includes music and a dance performance, and stops at Amatitán for a tour of the 2,500-acre Herradura spread and factory at the 19th-century Hacienda San José del Refugio.
Alternatively, rent a car in Guadalajara for a 45-minute drive along the well-marked and scenic Mexican highways (just be forewarned that traffic can be tricky for those unfamiliar with Mexican driving). Many use the faster toll highway, but for those preferring the full experience, I'd recommend the slower two-lane as it runs through the smaller towns before reaching Tequila. If you'd like to spend the night in any of them, look for picturesque members of the Haciendas y Casas Rurales de Jalisco.
For more on Contributing Travel Writer Diana Rowe visit: www.dianarowe.com
More info: tequilasource.com, tastetequila.com, haciendasycasonas.com
Link to La Cofradia in Spanish
Link to La Cofradia Translated to English

Honduran father finds purpose after son's surgery
When Alex Guerrero laid eyes on his youngest son Cesar for the first time he saw beyond his clef lip and cleft palate and into his beautiful soul. His wife and three other children felt the same way. The Guerreros spent many sleepless nights afraid Ces

Introducing Laredo's Newest Tourism Attractions

Aeromexico Announces a New Canadian Route: Mexico City – Vancouver

Amber Lounge brings Monte-Carlo Glamour to Mexico City


Your vacation guide to Puerto Vallarta

A Taste of Germany: Fredericksburg, a Central Texas Historic Getaway

Austin, Could Your Property be a Goldmine for SXSW Visitors?

Austin, Texas 2014 Calendar of Events

The Houston International Festival Transforms Downtown Houston by Spotlighting the Culture of Argentina

Guanacaste, Costa Rica: Nature Calls