Guanacaste, Costa Rica: Nature Calls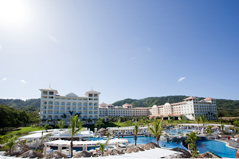 You don't just visit Costa Rica www.tourism-costarica.com; you immerse yourself in its natural wonders. More than a quarter of this lush Central American country consists of national parks and preserves, filled with ready-made adventures for the active traveler. My Costa Rican adventure took me to Guanacaste, a small city near the Pacific Ocean, located roughly four hours from the country's largest city, San José.
Two connections later, and I arrived at the small but efficient Daniel Oduber International Airport in Liberia, the far northwestern part of Costa Rica. The 5-star was just a short drive on the main paved road, lined with cattle ranches and lush sugar cane fields. Then my van turned onto a bumpy country road passing tumble-down shacks and more farm animals. I was even lucky to catch a glimpse of a white faced monkey with a baby clinging to its back, my first indication that this was not my typical resort vacation.
For those that have visited a Riu, you'll find luxurious comfort in its first Costa Rica property, located right on Matapalo beach in the midst of the jungles of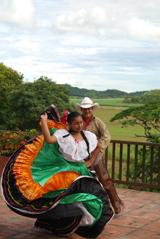 Guanacaste. With 701 rooms, the new resort offers their signature sprawling lobby, oversized rooms, and great views of land and sea. The Riu Guanacaste Costa Rica's all-inclusive service begins with its succulent cuisine in its four themed restaurants and the opportunity to host events in its five conference halls. Traveling sports fans can feed their addictions at Riu's 24-hour sports bar boasting several flat screen televisions, with refrigerators filled with complimentary sandwiches and quick snacks. Let's not forget their amazing pools!
We couldn't shed our traveling clothes fast enough for bathing suits to take a dip in the Riu's pool, an oasis of its own. Sure you can walk the few steps down to the Pacific Ocean and its beach, but the large swimming pool with inlaid marble lounge beds and tables and a swim-up bar will prove irresistible. For travelers with youngsters, there's even a pool for children only, complete with a playground and mini-club.
Nature called bright and early the next day as we prepared for our Swiss Travel (offering escorted group or individual tours) eco-adventure at the popular Rincon de la Vieja Volcano, near the town of Curubande. I quickly learned that anything worth seeing involved a long bus ride, but I was immediately distracted by the colorful colonial towns and sweeping vistas of flat lands, green mountains, thick forests, towering active volcanoes, and wildlife, reminiscent of the African savannah landscape. We even paused briefly as "sabaneros" (local cowboys) on horseback drove a herd across the road.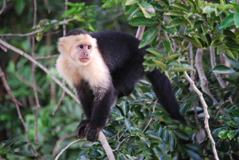 Before only monkeys zipped through the treetops, but in Costa Rica, canopy tours are as popular as its picture-perfect snorkeling and scuba diving. Located at the foot situated at the foot of the volcano, Hotel Hacienda Guachipelin, www.guachipelin.com also a working ranch, is one of the best ecotourism adventures, and they pack more than zip lines in their tours.
Imagine flying high atop the trees on a zip line through a narrow slot canyon; walking across a hanging bridge; rappelling toward the rushing waters; and then performing your version of a tethered Tarzan leap across the canyon's waters – only to be faced with the formidable task of rock climbing a 40 foot cliff. It's pushing the adrenaline envelope, but at the end, your reward is a calming horseback ride to a hidden waterfall for a refreshing dip in its cool waters. You can even sign up to be a cowboy for a day.
Eco-tourism and adventure opportunities are unlimited, but the best piece of advice I can offer is: don't forget the bug spray! The mosquitoes are hungry.
The second day, we lunched to the swirl of local native dancers on the deck of the old Hacienda Palo Verde, now the Palo Verde National Park headquarters, where limestone cliffs give rise to a valley filled with sugar cane fields, grazing cattle and a diversity of birds. Besides its wildlife, the park protects extensive forests and marshlands between the Tempisque and Bebedero rivers, located in the heart of the Tempisque basin near the mouth of the Rio Tempisque River.
Within seconds of boarding a canopied boat with bench seats, just a few minutes from the hacienda, the wildlife greeted our group. You won't use your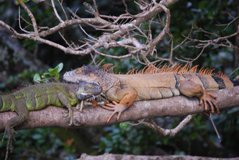 seats as you're continually straining to catch a glimpse of Mother Nature unfolding in front of you. Plump crocodiles sun their spiky backs on muddy riverbanks. Monkeys scatter through the trees shrieking and iguanas cuddle together to blend into the leaves while hundreds of surprised birds spread their wings.
This national park is best known as a bird-watcher's paradise, with more than 300 bird species recorded, including scarlet macaws, white ibis, roseate spoonbills, wood storks, and the country's largest colony of black-crowned night herons. Even endangered species, like the great curassow, yellow-naped parrot, and king vulture, find refuge here. Millions of wading birds of waterfowl flock here in the fall and winter when the waters swell onto the banks.
When our exhausted group returned to the Riu Guanacaste, we gathered together in mutual appreciative silence of what Costa Rica gifted us, a glimpse into the exotic beauties of its land and wildlife. Our nightcap was at the palaypa covered bar with the Pacific Ocean's gentle ebb and flow playing a relaxing tune, a perfect end to an incredible day.
Yes, Costa Rica is a land filled with eco-adventures, but more importantly, it's a place for travelers to be a quiet observer of Mother Nature.
www.tourism.co.cr/costa-rica-protected-areas/costa-rica-national-parks/palo-verde-national-park.html

Honduran father finds purpose after son's surgery
When Alex Guerrero laid eyes on his youngest son Cesar for the first time he saw beyond his clef lip and cleft palate and into his beautiful soul. His wife and three other children felt the same way. The Guerreros spent many sleepless nights afraid Ces

Introducing Laredo's Newest Tourism Attractions

Aeromexico Announces a New Canadian Route: Mexico City – Vancouver

Amber Lounge brings Monte-Carlo Glamour to Mexico City


Your vacation guide to Puerto Vallarta

A Taste of Germany: Fredericksburg, a Central Texas Historic Getaway

Austin, Could Your Property be a Goldmine for SXSW Visitors?

Austin, Texas 2014 Calendar of Events

The Houston International Festival Transforms Downtown Houston by Spotlighting the Culture of Argentina

Tequila, Mexico: Not Just a Day Trip Any More