Austin, Texas 2014 Calendar of Events
Austin in 2014: rock out, dig in, run on, or shop 'til you drop
Austin is a 24-hour town populated by an upstart mix of musicians, tech experts, film pros, athletes and foodies – and our yearly events calendar shows it. The Austin Marathon draws 11,000 runners from around the world. The inaugural Austin Food + Wine Festival is slated to welcome visitors from across the nation and showcase the best innovative cuisine. Fun Fun Fun Fest is known as the nation's best underground punk and alternative music festival; and Fantastic Fest, which features sci-fi, horror, fantasy and other genre films, has become a favorite of film buffs and celebrities alike. SXSW expands this year with StyleX, an affiliated fashion segment, and the Austin City Limits Music Festival will once again welcome 70,000 fans per day to Zilker Park for performances by more than 100 bands.
For more information, contact the Austin Convention & Visitors Bureau at 866-GO-AUSTIN or www.austintexas.org. All listed events are subject to change.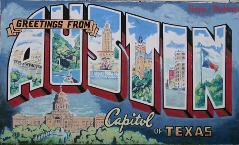 Honduran father finds purpose after son's surgery
When Alex Guerrero laid eyes on his youngest son Cesar for the first time he saw beyond his clef lip and cleft palate and into his beautiful soul. His wife and three other children felt the same way. The Guerreros spent many sleepless nights afraid Ces

Introducing Laredo's Newest Tourism Attractions

Aeromexico Announces a New Canadian Route: Mexico City – Vancouver

Amber Lounge brings Monte-Carlo Glamour to Mexico City


Your vacation guide to Puerto Vallarta

A Taste of Germany: Fredericksburg, a Central Texas Historic Getaway

Austin, Could Your Property be a Goldmine for SXSW Visitors?

The Houston International Festival Transforms Downtown Houston by Spotlighting the Culture of Argentina

Guanacaste, Costa Rica: Nature Calls

Tequila, Mexico: Not Just a Day Trip Any More