The Houston International Festival Transforms Downtown Houston by Spotlighting the Culture of Argentina
Houston International Festival Celebrates its 42nd Year, April 21-22 and 28-29
Celebrating its 42nd year, the 2012 Houston International Festival (HIF) is proud to highlight the culture of South America with a focus on Argentina. With more than 200,000 visitors expected, the highly anticipated event will occur on the weekends of April 21-22 and April 28-29. Attendees can expect outstanding musical performances, artisan demonstrations, interactive exhibits, a variety of food and fun for all ages. The Festival Kickoff is scheduled for February 23 at Tango &Malbec Restaurant located at 2800 Sage Rd. #A100, with tickets now available online.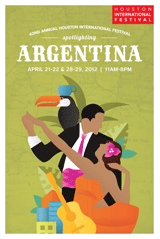 HIF continues its tradition as one of the largest presenters of internationally-acclaimed artists from around the globe, putting the best of world music next to the finest national and regional roots music. The goal is to demonstrate how music and dance can communicate across cultural and linguistic barriers.
Stretching across 14 acres of downtown parks and streets including City Hall, Bagby Street, Tranquility and Sam Houston Parks, HIF will feature multiple entertainment-themed zones filled with great music from around the world, including music from the honored country of Argentina, reggae, jazz, blues, Americana music, and children's programming.
This year's lineup, spotlighting Argentina, features a continuous flow of music, dance and cultural performances with 2012 Headliners to include: Los Lonely Boys, War, Steel Pulse, Galactic, JJ Grey and MOFRO, SeunKuti& Egypt 80, Los Amigos Invisibles, Chico Trujillo, SOJA, Hector Del Curto& Eternal Tango, and more.
SAM HOUSTON PARK TRANSFORMS
Sponsored by Chevron, one major focal point of 2012 is the Chevron Argentina Living Museum which will allow attendees the opportunity to immerse themselves in Argentinian culture via an architecture style La Boca Neighborhood setup to involve: hands-on activity making alfajores--a traditional pastry, an interactive urban style Buenos Aires paint-by-number mural, tango demonstrations, lessons and small acoustic performances to a name a few.
INTERNATIONAL MARKETS AND FOOD
The festival will introduce Village Green, an area designated to feature recycled crafts and whole, fresh, raw or locally-produced goods and concessions. Hundreds of artists from around the world exhibit and sell a vast array of handcrafted goods in unique markets throughout several blocks of the Festival site. In addition to authentic Argentinian cuisine, the festival offers flavors from all over the world including: Cajun, Creole, Mediterranean, Thai, Japanese, Southwestern and Continental cuisines.
SPECIAL EVENTS
The Festival hosts additional events including the Opening Ceremony, which kicks off the Festival on April 20 to include the launch of the (HIF) Regatta. On April 21, HIF will host its inaugural Concert & Tango Performance at the Hobby Center featuring Argentinian and bandoneonist Hector Del Curto and Eternal Tango. The performer has been recognized by The New York Times as a "splendid player," captivating audiences around the world.
FESTIVAL HOURS & ADMISSION
The Festival will take place Saturdays 11a.m. - 8p.m. and Sundays 11a.m. - 8p.m.
Tickets are now on sale at www.ifest.org. For updated info on the festival, visit: www.facebook.com/ifest
•Adults $18, Children $5 (ages 3-12), Free for children under 3 years old.
•Discount pricing for early birds, groups, and VIP tickets are available online now!
All proceeds benefit the Festival's arts and education outreach programs. For more information, call 713-654-8808 or access the HIF's official website at www.ifest.org.
Follow HIF on Twitter @iFest with hashtags #HIF2012, #HIF & #IFest. Also, "Like" us on Facebook at facebook.com/ifest

Honduran father finds purpose after son's surgery
When Alex Guerrero laid eyes on his youngest son Cesar for the first time he saw beyond his clef lip and cleft palate and into his beautiful soul. His wife and three other children felt the same way. The Guerreros spent many sleepless nights afraid Ces

Introducing Laredo's Newest Tourism Attractions

Aeromexico Announces a New Canadian Route: Mexico City – Vancouver

Amber Lounge brings Monte-Carlo Glamour to Mexico City


Your vacation guide to Puerto Vallarta

A Taste of Germany: Fredericksburg, a Central Texas Historic Getaway

Austin, Could Your Property be a Goldmine for SXSW Visitors?

Austin, Texas 2014 Calendar of Events

Guanacaste, Costa Rica: Nature Calls

Tequila, Mexico: Not Just a Day Trip Any More