A Taste of Germany: Fredericksburg, a Central Texas Historic Getaway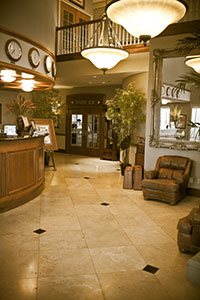 Check your bags at Fredericksburg's Hangar Hotel, then head down the wine trail at this Hill Country hamlet for an authentic taste of the Texas Hill Country — as well as the delicious fruit of the Texas Wine Trail — look no further than Fredericksburg.
Just 70 miles west of Austin, this heritage community was settled by German immigrants in the 19th century and retains its Old World charm.
Filled with unique shops, restaurants both casual and sophisticated, and a profusion of wildflowers and friendly people, Fredericksburg is the perfect weekend getaway for Central Texans. But don't think of it as just another sleepy little town; Fredericksburg has a lot going on that is miles from the ordinary.
Where to Stay
With its unique accommodations, the Hangar Hotel is one of the more interesting hotels you'll find anywhere. The Hangar was designed in the style of a World War II airplane hangar from the 1940s; the aeronautical exterior belies the stylish interior of fine woods, luxurious furnishings and attention to detail. Throughout it all is a nod to a bygone era, with airplane memorabilia and the ambience of the romantic '40s.
The Hangar is a lot of fun, too. For the USO-style Hangar Dances, which are held on New Year's Eve every year and this coming year they're adding a fourth one on the weekend of the 4th of July, in addition to Memorial Day and Labor Day weekends, guests will dress up in '40s-era garb, listen to big band music and learn to swing dance. A St. Patrick's Day Sock Hop will feature the Johnny Rogers Band, The Johnny Rogers Band does a Buddy Holly Tribute Show a couple times a year. "One of my favorite things about the Hangar Hotel is just the mood or atmosphere that has been created here," says Kelly Ayers, marketing & events manager of the hotel. "Everything is theme appropriate, and every time you stay with us, it's like you've stepped back in time. It's an all-around experience."
What to Do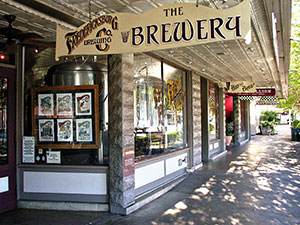 Visitors can easily spend an entire day browsing the shops and galleries on Main Street, hopping on a bicycle to pedal amid wildflowers or driving to nearby Enchanted Rock for stunning views. Of course, the grape is king in this region, and you can taste wine at area vineyards such as Becker Vineyards, Torre di Pietra and Grape Creek Vineyard. Try a Texas Wine Tour or meander the newly developed Wine Road 290 yourself.
"For visitors to Fredericksburg and the Texas Hill Country, these 10 wineries are located in a very easy to navigate area using U.S. 290 as the artery that binds them together," says Ernie Loeffler, director of the Fredericksburg Convention and Visitor Bureau. "From Texas Hills Vineyard just to the east of Johnson City to Chisholm Trail Winery just to the west of Fredericksburg is about a 50-minute drive, with the other wineries in between."
If you are a history buff, visit the Vereins Kirche Museum in the Fredericksburg National Historic District for a taste of the folklore of German pioneer history. Nearby Lyndon B. Johnson State Park and Historic Site offers a look inside the "Texas White House" and ranch of the 36th U.S. president. The National Museum of the Pacific War is the only institution in the country dedicated to the story of World War II's Pacific Theater. Recently expanded, the museum offers a new George H.W. Bush Gallery with a multimedia presentation and historical artifacts.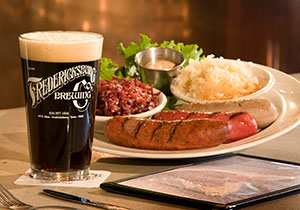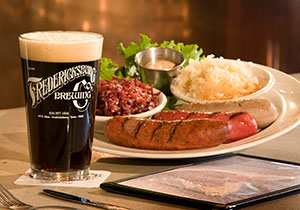 What to Eat
For a small town, Fredericksburg is a culinary delight. Gourmet restaurants such as August E's, Navajo Grill, Rock House and Austin's dish up creative cuisine for the most discerning palate. There are plenty of casual and lunch spots as well; try the Fredericksburg Brewing Company, the oldest brewpub in Texas serving up craft beer and offering a traditional biergarten in the back.
If you really want to get hands-on, Fredericksburg is a great place to take cooking classes. Jacque Rudman offers a variety of classes, from "feast of flavors" culinary delight samplers to "haute and healthy herbs" with ingredients picked straight from the chef's garden. Private group sessions can be arranged with recipe and menu development for a customized epicurean adventure.
What to Splurge On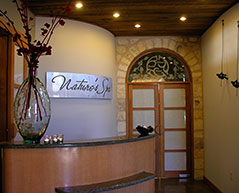 Part of any good getaway is pampering yourself, and there is no better place than Fredericksburg's newest destination spa, Fredericksburg Herb Farm. The 5,000-square-foot facility offers all manner of indulgence, and the Farm Haus Bistro will replenish you with garden-fresh food. You can enjoy a massage, facial or more at the destination spa, or retreat entirely in one of the new guest cottages.
"We've had the Herb Farm for about two years now, under construction," says owner Dick Estenson. "The materials that are used are stone and natural woods; the execution of these (buildings) has been done by local artisans." The restaurant has a new kitchen that is three times the size of the old one, with two new dining rooms. "We also have the old 1884 rock house that is now being restored into its original rock condition. We have 14 cottages completed and available for rent. Each one of the cottages is done in an architectural styling of the original Sunday Haus. The Sunday Haus was a concept for people coming in from the country and enjoying the weekend attending church and then picking up supplies for the rest of the week."
When to Go
Any time of year is nice in Fredericksburg, whether in summertime when you can cool off at a nearby watering hole or during the magical light-filled winter holiday season. But the town is known for its events and festivals, which make for great times to plan a visit around. March and April bring wildflowers, and with it bike rides, 10K runs and wildflower celebrations. The Hill Country Wine and Music Festival in late April is always a winner, held concurrently with the Film Festival. The July 4th celebration is big, with a community parade and fireworks, and other celebrations in nearby Luckenbach.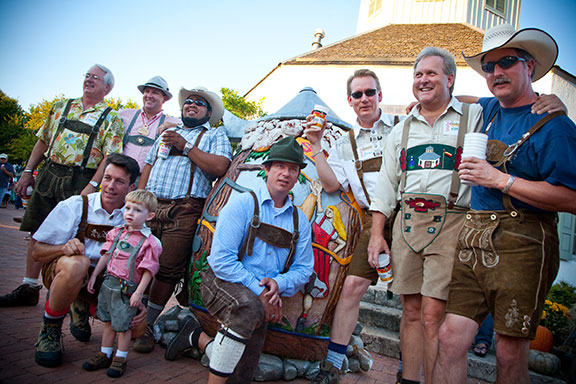 The Author: Shelley Seale is a freelance writer based in Austin. She has written for National Geographic, USA Today and Andrew Harper Traveler, among others. She can be reached at www.shelleyseale.com
Information:
For links to the attractions mentioned in this article, go to
Fredericksburg Convention & Visitors Bureau - www.visitfredericksburgtx.com
The Hangar Hotel - www.hangarhotel.com

Honduran father finds purpose after son's surgery
When Alex Guerrero laid eyes on his youngest son Cesar for the first time he saw beyond his clef lip and cleft palate and into his beautiful soul. His wife and three other children felt the same way. The Guerreros spent many sleepless nights afraid Ces

Introducing Laredo's Newest Tourism Attractions

Aeromexico Announces a New Canadian Route: Mexico City – Vancouver

Amber Lounge brings Monte-Carlo Glamour to Mexico City


Your vacation guide to Puerto Vallarta

Austin, Could Your Property be a Goldmine for SXSW Visitors?

Austin, Texas 2014 Calendar of Events

The Houston International Festival Transforms Downtown Houston by Spotlighting the Culture of Argentina

Guanacaste, Costa Rica: Nature Calls

Tequila, Mexico: Not Just a Day Trip Any More