Come Discover Austin Texas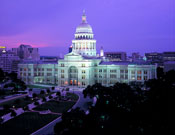 There's always something playing in Austin, Texas, the Live Music Capital of the World®. With multiple entertainment districts, authentic restaurants and bars, a thriving cultural arts scene and a passion for the outdoors, it's no wonder Austin is one of the top cities for Hispanics to live, work and play.
The Hispanic community continues to flourish in Texas' capital city thanks to prominent organizations such as the Greater Austin Hispanic Chamber of Commerce, Hispanic Women's Network of Texas and Young Hispanic Professional Austin Association. Area attractions such as the Mexic-Arte Museum and the Mexican American Cultural Center have also helped increase the Hispanic influence throughout the city. Vibrant, diverse exhibits and the annual Día de los Muertos celebration have attracted national acclaim for the Mexic-Arte Museum's dedication to Hispanic culture. In addition, the Mexican American Cultural Center is one of the most unique meeting venues in Austin, showcasing exhibits
that honor the city's rich Hispanic heritage.
In 2006, the Austin Latino Music Association (ALMA) launched Latino Music Month, which takes place the entire month of May with live music performances at restaurants, bars, performing arts centers and Austin City Hall. One of the highlights of the month-long celebration is the Pachanga Latino Music & Arts Festival. ALMA also produces the "Sabor Latino" music series, "Sonidos del Barrio" music program, and "Austin Music Mezcla" compilation CD in conjunction with the Austin Convention & Visitors Bureau.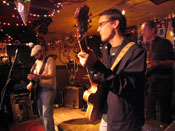 Austin is home to a diverse and vibrant Latino music scene. Genres range from mariachi, salsa and Tejano to conjunto and rock en español, to name a few. A number of Latino musicians hail from the Live Music Capital of the World®, including Grupo Fantasma, Alejandro Escovedo, Vallejo, Del Castillo, Rosie Flores, Rick Trevino, and Grammy Award-winners Joel Guzman and Ruben Ramos & The Texas Revolution.
Education and health services are two of the top industries in Austin due in part to the University of Texas, a world-class educational institution that attracts a wide range of students, educators and researchers. More than 50,000 students attend UT, reinforcing the city's cultural diversity. Also part of the university is the Blanton Museum of Art, which boasts one of the most comprehensive collections of contemporary Latin American art in the country, with more than 2,000 works by artists from Mexico, South and Central America, and the Caribbean.
More Latin American art is available at La Peña. Part art gallery, part educational organization and part cultural center, La Peña features rotating exhibits by well-known artists and also sponsors film festivals, musical performances, instructional lectures and literary festivals.
Stories of the Hispanic heritage can also be found on stage and on screen throughout the city. Founded in 2004, the Austin Latino Theatre Alliance produces "La Pastorela" each holiday season. In addition, Cine Las Americas International Film Festival is held every spring in Austin, premiering new Latin American cinema.
To see what else is playing in Austin, visit www.AustinTexas.org or call 866-GO-AUSTIN.

Honduran father finds purpose after son's surgery
When Alex Guerrero laid eyes on his youngest son Cesar for the first time he saw beyond his clef lip and cleft palate and into his beautiful soul. His wife and three other children felt the same way. The Guerreros spent many sleepless nights afraid Ces

Introducing Laredo's Newest Tourism Attractions

Aeromexico Announces a New Canadian Route: Mexico City – Vancouver

Amber Lounge brings Monte-Carlo Glamour to Mexico City


Your vacation guide to Puerto Vallarta

A Taste of Germany: Fredericksburg, a Central Texas Historic Getaway

Austin, Could Your Property be a Goldmine for SXSW Visitors?

Austin, Texas 2014 Calendar of Events

The Houston International Festival Transforms Downtown Houston by Spotlighting the Culture of Argentina

Guanacaste, Costa Rica: Nature Calls

Tequila, Mexico: Not Just a Day Trip Any More