Amber Lounge brings Monte-Carlo Glamour to Mexico City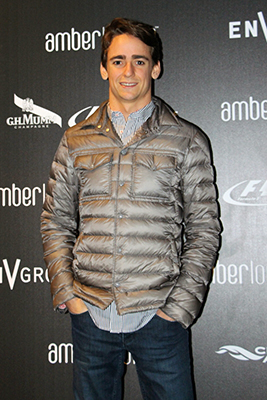 For over a decade, Amber Lounge has been bringing the best in entertainment to the world of Formula One. Venues such as Monaco, Abu Dhabi, Singapore, and Austin Texas have welcomed celebrities, musicians, athletes, and royalty.

After a two decade long hiatus, Formula One is set to return to Mexico. This November, Mexico City will host the 2015 Mexican Grand Prix at the Autodromo Hermanos Rodriguez.

For 3 exciting nights, Amber Lounge will take over a secured area in the heart of Polanco, one of the most glamorous and upscale areas in the Mexican Capital and will transform the traditional event space Casino Campo Marte into a breath-taking, one-of-a-kind nightlife venue to accommodate A-list celebrities, F1drivers and the VIP international jet set.

"I'm so excited to bring Amber Lounge to Mexico City", says Sonia Irvine, founder of Amber Lounge. "After a 23-year absence, the Mexican people are charged with anticipation for the return of the Mexican GP and I can't wait to share the exhilarating Amber Lounge event with them. I promise it will be an unforgettable weekend!"

On Friday October 30th, Saturday October 31st, and Sunday November 1st, guests will be able to celebrate at Amber Lounge with electrifying live performances from global artists and DJs, a captivating fashion show with international supermodels, and free-flowing premium beverages all night long, all whilst hitting the dance floor with their favorite F1teams and their drivers.
For more information on Amber Lounge, visit: www.amber-lounge.com


Photo: Joey Franco

Honduran father finds purpose after son's surgery
When Alex Guerrero laid eyes on his youngest son Cesar for the first time he saw beyond his clef lip and cleft palate and into his beautiful soul. His wife and three other children felt the same way. The Guerreros spent many sleepless nights afraid Ces

Introducing Laredo's Newest Tourism Attractions

Aeromexico Announces a New Canadian Route: Mexico City – Vancouver


Your vacation guide to Puerto Vallarta

A Taste of Germany: Fredericksburg, a Central Texas Historic Getaway

Austin, Could Your Property be a Goldmine for SXSW Visitors?

Austin, Texas 2014 Calendar of Events

The Houston International Festival Transforms Downtown Houston by Spotlighting the Culture of Argentina

Guanacaste, Costa Rica: Nature Calls

Tequila, Mexico: Not Just a Day Trip Any More