Do More in Houston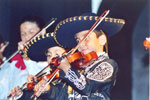 Where can you go for the best in entertainment, sports, cultural arts, shopping, dining and nightlife? Look no further than Houston, Texas. Home to a respected and energetic cultural arts scene, the fourth largest shopping center in the country, the oldest African-American theater in the Southwest and the brains behind United States space exploration, Houston is as diverse a city as they come. As The New York Times stated in a recent feature, "Maybe that's what makes Houston such an unusual and wonderful place--there are so many different Houston's to see."
Downtown Houston has become one of the most vibrant areas in the city. More than 50 restaurants and bars have opened within the past several years, and the 7.5-mile METRORail facilitates travel to and from the Museum District, Texas Medical Center and Reliant Park. The new Hilton Americas-Houston added 1,200 guestrooms to downtown Houston in 2003, in addition to the resurgence in boutique hotels such as the Hotel Icon, Alden-Houston Hotel and the Magnolia. Across from Minute Maid Park is downtown Houston's newest hotel, Inn at the Ballpark. The new 262-room Embassy Suites Downtown is set to open in Spring 2011.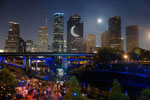 Houston After Dark
Nightlife in downtown has really picked up in the last few years. Houston Pavilions, downtown's new mixed-use development with dining, entertainment and retail, is home to hot spots like House of Blues, Lucky Strike Lanes and Pete's Dueling Piano Bar. Inside downtown's new Discovery Green park is The Tree House - a treehouse-feel terrace bar that offers one of the best views of downtown. Midtown, on downtown's southwest border, has emerged as a hot spot. The live-music hangout Continental Club and popular dancing spot Sammys are both steps away from the METRORail, and hip locals and visitors flock to The Roof for its famed rooftop terrace overlooking the downtown skyline. Rice Village, near Rice University, offers a variety of pubs and bars including, The Ginger Man, Kelvin Arms, Baker St. Pub, Brian O'Neill's and Little Woodrow's. A couple miles west of downtown is Houston's newest and hottest nightlife spot, Washington Avenue. This area is a bar hopper's heaven with nearly 30 new bars, including Porch Swing Pub, Washington Ave Drinkery, Pearl Bar, Ei8ht, Nox, Sawyer Park, Taps House of Beer and many more!

Honduran father finds purpose after son's surgery
When Alex Guerrero laid eyes on his youngest son Cesar for the first time he saw beyond his clef lip and cleft palate and into his beautiful soul. His wife and three other children felt the same way. The Guerreros spent many sleepless nights afraid Ces

Introducing Laredo's Newest Tourism Attractions

Aeromexico Announces a New Canadian Route: Mexico City – Vancouver

Amber Lounge brings Monte-Carlo Glamour to Mexico City


Your vacation guide to Puerto Vallarta

A Taste of Germany: Fredericksburg, a Central Texas Historic Getaway

Austin, Could Your Property be a Goldmine for SXSW Visitors?

Austin, Texas 2014 Calendar of Events

The Houston International Festival Transforms Downtown Houston by Spotlighting the Culture of Argentina

Guanacaste, Costa Rica: Nature Calls

Tequila, Mexico: Not Just a Day Trip Any More